All of our lilies are rooted & established for your immediate enjoyment and viewing pleasure !

Virginalis White
A crisp white flower adorns this prolific bloomer surrounded by its dark green lily pads. A valuable addition to your collection of lilies.
$55.00
Hal Miller (white) Lily Nymphaea
Developed in San Gabriel, California from the parentage of the Sunrise (yellow) and the Virginalis (white) lilies. This hardy lily is a large plant that will grow in medium to deep water sending up blossoms as large as 7-9 inches in diameter.
$54.00
Sunrise Sunrise Hardy Lily Nymphaea
A healthy grower, this hardy plant is capable of sending up its huge sun-yellow blossoms along with a vast spread of green cocoa freckled pads up from quite some depth. Easy to grow & adaptable to varied conditions such as deep depth and into semi-shade.
$48.00
Chromatella (yellow) Lily Nymphaea 'Chromatella'
A hardy favorite that survives all the tests to delight us with its constant floral display of bright canary yellow. This lily has one of the earliest, most profuse, and longest blooming seasons of all the lilies.  Its olive colored leaves are splotched with bronze markings.
$42.00
Sunset Lily Nymphaea
These lilies are a wonderful changeable variety that actually shifts in color daily. From the first day in a yellow-apricot hue, the blossom will change color to a coppery red/bronze. Very adaptable, it will adjust to varied conditions such as depth, size of container and semi-shade.
$58.00
Red Attraction
A free flowering red lily that has been a long time favorite due to its rich red center. Medium to large in growth in up to 3 feet of depth for your pond.
$52.00
Colorado/ Salmon
A strong salmon bloomer that stands out in your water garden. An excellent bloomer with a long blooming season, from early spring to late fall. We even found in a warmer climate, they bloom year round! Ferocious grower in shallow ponds of six inches to more than three feet in depth. You will enjoy this prolific hardy water lily for your medium to large pond.
$38.00
The olive green, frequently splashed yellow, cream, pink, and even red radiating from the center leaves are the standout feature of this truly unique variety. The flowers are shell pink, fading to nearly white on the last day. Flowers are up to 6ft in diameter and have a strong fragrance. The leaves may reach 9-1/2 ft across with an overall spread of 4 to 5 feet. Medium to Large spread; Full sun.
$49.00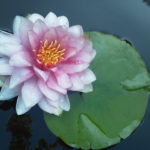 Pink Hardys: Darwin, Marilac Carnella, Lilypons, Double Pink,…
A variety of Pink lilies available please call and inquire as with all lilies, many more varieties available and for order.
$35.00 – $95.00
See "planting a lily" blog for planting instructions.
Many other varieties available including tropical lilies & Lotus; please give us a call for availability; +1-626-284-5937